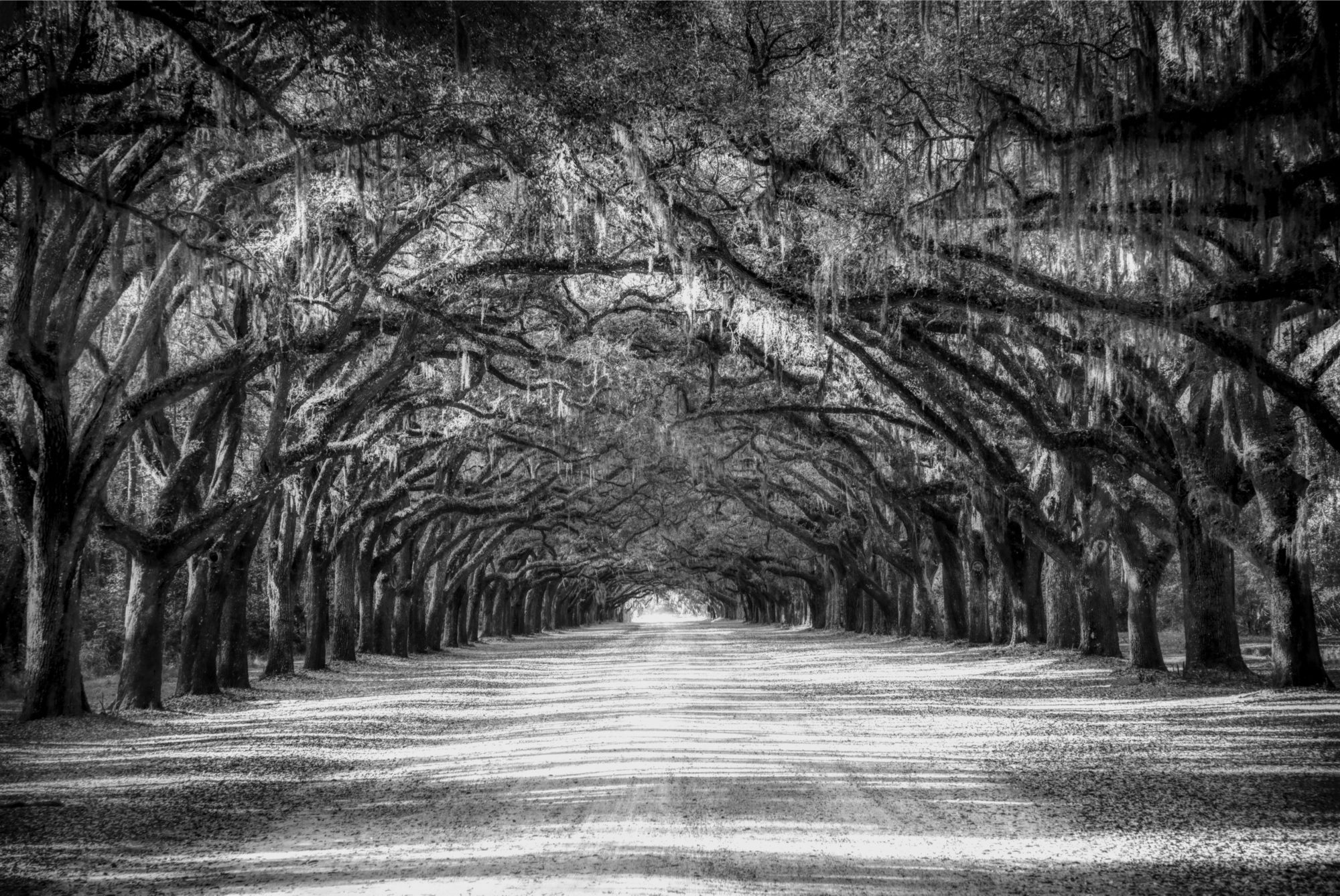 THE NEIGHBORHOODS AND COMMUNITIES OF THE GREATER SAVANNAH AREA
HISTORIC SAVANNAH
Stroll through the famous squares, created by General James Oglethorpe when he founded Savannah on a bluff of the Savannah River in 1733. It is the largest National Landmark Historic District in the US and features cobblestone streets, and oak shaded squares.
It is a very walk able city and the lush squares offer shaded comfortable resting areas.  Explore museums, monuments, and 18th century homes. Walk to boutiques, restaurants and entertainment venues.
Homes vary from historic single family and row homes, to modern condominiums and townhomes.
Historic homes mostly date back to the 18th and 19the centuries and feature architectural styles of the period. These distinct residences usually come at a high price with renovated properties reaching upwards of $3 million. If you are interested in restoring a property, you can you can purchase one that needs some TLC between $500,000 and $900,000 or opt for a condo in the historic district from $300,000and up.
The historic district is bordered on the north by the Savannah River, and to the south by Victory Drive, while bordered on the east by the Truman Parkway and on the west by Boundary Street. Two of the most sought after areas are the Landmark Historic District and the Victorian District with beautifully detailed homes with gingerbread trim. Along the riverfront you'll also find condos and townhomes offering spectacular views. 
ARDSLEY PARK
The historic and elegant neighborhood of Ardsley Park in midtown Savannah is a favorite among families and professionals for many reasons: beautiful homes, tree lined streets, wide sidewalks as well as landscaped squares. Located just blocks from Daffin Park and a short 5 minute drive to historic Savannah, and a 20 minute drive to Tybee Island, Ardsley Park offers charm and convenience.
For some Savannah residents, Ardsley Park is the only place to live. Within walking distance you will fine terrific restaurants, and quaint boutiques. Ardsley Park is a walk friendly and dog friendly community. The neighborhood exemplifies the charm of Savannah's late 19th century and early to mid 20th century architecture and offers some of the best of Savannah's real estate. From craftsman style bungalows to glorious mansions , the average prices are in the mid 400's. 
MIDTOWN SAVANNAH
Midtown offers a range of neighborhoods, shopping and dining, and is a quick 10-minute drive to the historic district. Live near Daffin Park, home of the Savannah Bananas, or other area pocket parks.
Located in the midtown area are some of the finest medical facilities in the southeast, including two hospitals and numerous clinics and doctor offices.
All types and price ranges of homes are found in Midtown.
Savannah's midtown area stretches from Victory Drive south to DeRenne Avenue and includes Ardsley Park and Chatham Crescent.
SOUTHSIDE SAVANNAH
Southside neighborhoods are still close to the downtown attractions, and boast busy commercial areas, hotels, restaurants and three main shopping areas, including two malls.
There are a variety of housing types and price ranges to suit various lifestyles and price ranges.
THE ISLANDS
East of downtown Savannah, you will find lovely residential areas in Thunderbolt, Whitemarsh, Talahi , Wilmington, Burnside, Dutch, and Skidaway islands, as well as Isle of Hope, Long Point, and Marsh Harbor. 
Rivers, creeks and marshes abound as well as all of the shopping and dining conveniences.
The islands are a way of life in the Savannah area. Many homes feature direct water access.
DUTCH ISLAND
  Dutch Island is a small coastal community located along the intercostal waterway, 20 minutes from the heart of Savannah. It covers an area of approximately 500 acres, and is surrounded by the marshes of the Skidaway River, Herb River, Wilmington River and Grimbal Creek.
The natural beauty of Dutch Island makes it a top pick for families. Developed on the early 1980's, Dutch Island has remained fairly small with 480 traditional homes on large lots surrounded by mature trees, winding creeks, and the Intercoastal Waterway.
Dutch Island community features a boat ramp, pier and dock, swimming pool, beach volleyball court, tennis courts, playground, basketball court and 10 lagoons and ponds. Many of the homes in Dutch Island have their own private docks. Enjoy boating, fishing, canoeing, kayaking, and biking in Dutch Island.
ISLE OF HOPE
  Isle of Hope is part of the oldest chain of  marsh islands on the east coast and is located on the Skidaway River. With it's idyllic postcard setting, the Isle of Hope feels like stepping back in time. A true sense of community thrives here, and it's special. There are scenic views along the Skidaway River, grand homes built by early Savannahians, numerous historic sites, along with abundant wildlife and water sports. The marina, is the core of activity for both residents and tourists. Many boaters traveling along the Intercoastal Waterway dock at the Isle of Hope.
The house s range from in style from Greek Revival, Victorian and Neoclassical to Craftsman bungalows. Magnificent antebellum homes and quaint summer cottages are seen along the waterfront bluff on Bluff Drive. Median home price on the Isle of Hope is in the mid 300's.  The area remains unspoiled and peaceful, yet offers close proximity to Savannah.
LONG POINT
  Long Point is a 280 acre community located on pristine Whitemarsh Island. This affluent community offers breathtaking views of the Wilmington River, lagoons and marshes.  Known as a popular family community, Lonfg Point has great schools, shopping and an abundance of recreational activities nearby.  Downtown Savannah is only is only minutes away.
Many families with children live in Long Point. The island's public school district is award winning. Long Point home prices have remained steady which reflects strength and stability of the community. The home prices range from the 400's to over several million, with styles from traditional brick and stucco to European. The homes are on large lots, often with lagoon, marsh or waterway view.  Many of the homes have their own private dock. There are also 2 pools, 8 tennis courts, a playground, a community dock and a manned gate.
SOUTH HARBOR
  South Harbor is a quiet gated waterfront community located on Skidaway Island. It is a boater's paradise and offers sophisticated living only 10 miles from downtown Savannah. South Harbor offers a breathtaking landscape bounded by tidal creeks, salt marshes, and the Intracoastal Waterway. Home prices range from the 500's to over a million.
Many of the homes have 24-40 foot boat slips on the Intracoastal Waterway. The community offers a deep water marina with a private boat hoist, dockage and dry boat storage. Additional amenities include a resort style swimming pool overlooking the Intracoastal Waterway, tennis courts, and playground. Enjoy ocean breezes, salt water marshes, creeks, and salt air.
THE LANDINGS
  The Landings is a luxurious gated community situated on 4566 acres on Skidaway Island on Georgia's emerald coast. Homes and home sites offer ocean, forest, golf, marsh, lagoon and river views. Homes types range from single-family, to townhomes and condos. The Landings has frequently been named Savannah's best community.
To reach the Landings, drive across the Moon River on Diamond Causeway. The community is renowned for it's  premier golf club style living. Membership in The Landings Club allows members and their families to enjoy 6 championship golf courses designed by Arnold Palmer, Tom Fazio, Arthur Hills, and William Byrd. There are also 2 deep-water marinas, 3 tennis centers, with 34 Har-Tru courts, a state-of-the-art fitness center and 4 swimming pools. The Landings also includes 2 athletic fields, a dog park, over 40 miles of paved walking and biking trails and cuisine that is second to none.   
Homeowner enjoy over 100 community groups and organizations in several different neighborhoods: Midpoint, Deer Creek, Marshwood, Franklin Creek, Marshview Landing, Moon River Landing, Delegal Creek, The Rookery and Oakridge. The Village offers shopping and dining.
Prices of homes for townhomes and other multi-family homes range from $200,000 to $700,000. Single family homes range from the 200's to over $2 million.
TYBEE ISLAND
Twenty minutes from downtown is Tybee Island located right on the Atlantic Ocean with miles of beach. Known for it's laid back lifestyle, it's fresh seafood, the famous pier and lighthouse, time slows down to "Tybee Time. " Tybee has it all: fishing piers, off shore, deep-water charters or surf fishing.
Tybee is popular with vacationers for it's casual vibe  and fun recreational activities but it's a popular place to live year-round. Tybee offers residents all of the conveniences of small town living with it's variety of businesses. Tybee is home to several talented and imaginative artists and whimsical shops and galleries. There are more than 25 restaurants with a variety of cuisine. Tybee has a wide variety of housing choices: beach homes, condos, and historic homes. Median sales price of a single-family home is over $300,000. The average listing price is $599,000 with many multi-million dollar homes. Whether you desire oceanfront property, or a home on the Back Bay with your own private dock, Tybee has much to offer. Be ready to wear you flip flops  and feel the ocean and sand beneath your feet. 
WILMINGTON ISLAND
Wilmington Island is a highly sought after area just outside of historic Savannah GA. The island lies just east of Savannah between Thunderbolt and Tybee Island.  Wilmington Island has a strong sense of community and a small town feel. It's a quaint area with many housing communities, restaurants and shopping.  The island is mostly residential with forested neighborhoods and an abundance of parks and recreational facilities. It offers coveted  public and private schools. There is something for everyone on Wilmington Island, price and style wise from single-family homes to condos, to multi-million dollar mansions with magnificent water views and private docks.
OLDE TOWNE
Located on Wilmington Island, Olde Towne is tucked away among live oaks with Spanish moss. It is close to shopping and dining on the island and in historic Savannah as well as the beaches of Tybee Island . Olde Towne on Wilmington Island is surrounded by a number of waterways including the Intracoastal Waterway.
RICHMOND HILL
Located in Bryan County, just south of Savannah lies Richmond Hill, one of the fastest growing towns in the area and a quiet family community. It retains it's small town charm and has a great deal to offer: outstanding educational opportunities, recreational facilities, and beautiful scenery.
A variety of outdoor activities abound, such as fishing and boating. Richmond Hill is coastal Georgia living at it's finest.  Much of the area was owned and established by Henry Ford, including Ford Plantation, which was his former home, now an exclusive development.
2 local marinas, Ft McAllistar Marina and Kilkenny Marina, and a variety of boat ramps serve the active boating community. Richmond Hill is centrally located to Ft, Stewart and Hunter Army Airfield making it popular for active and retired military and their families.  There is easy access to downtown Savannah, Pooler and south side Savannah.
WATEREWAYS TOWNSHIP
  Waterways Township is a vibrant community promoting an active lifestyle centered around it's natural coastal setting. The developer, Fletcher Davis Company, has taken great pains to integrate the development around the native vegetation to maintain the original beauty and integrity. It is a 300 acre community offering homes and home sites in a variety of price points. Waterways provides an assortment of amenities located throughout the community including WaterClub West, Hawk Island Boathouse, Grand Lagoon, Community Gardens, neighborhood parks and winding walking/biking trails. The 3 miles of lagoons are perfect for bass fishing, kayaking and canoeing.
The marina will be opening in the spring of 2020. The marina village will be open to the public and feature dry storage, a bait/tackle shop, retail shops, restaurant, swim/fitness facility and more. Waterways Township is a lifestyle.
THE BLUFFS AT RICHMOND HILL
  The Bluffs at Richmond Hill is a gated coastal community next to the Tivoli River and consists of 145 homes and home sites. Home owners and their guests enjoy the amenities available including a pool with pool house, tennis court, basketball court, playground, paved walking trails and multiple lagoons. 
RICHMOND PLACE
Richmond Place is conveniently located within the city limits of Richmond Hill, providing shopping, dining and award winning schools within walking distance or a very short drive. It is close to I-95 which makes it very convenient for commuting. Richmond Place is centrally located to Ft. Stewart and Hunter Army Airfield making it popular for active and retired military. Richmond Place has stylish homes, a pool, club house, tennis courts, playground and ball field for playing. baseball or soccer.
THE FORD PLANTATION
In the early 1920's Henry Ford began looking for a place to build a winter home.  Ford purchased massive amounts of land in the coastal Georgia area now known as Richmond Hill. In 1936 he broke ground for a beautiful 7,000 square foot Greek Revival style mansion on the Ogeechee River sitting on 55 acres of manicured lawns and gardens.
Today The Ford Plantation sits on the banks of the Ogeechee River 20 miles from the Atlantic Ocean. A private marina offers convenient access to inshore and offshore fishing. Months of good weather and the close proximity to the water are major contributors to the strong connections between residents.
There are no shortage of front porches, walking and horseback riding paths and social events.  There is always something to do including fancy formal events to oyster roasts.
Amenities and activities include golf, fishing, and an equestrian center. Shooting sports are quite popular, and through the Dorchester Shooting Preserve, The Ford Plantation provides it's members with a variety of options for this sport.   
Wellness is a lifestyle at The Ford Plantation and it encompasses health-conscious dining, indoor and outdoor fitness experiences, including a schedule of more that 80 fitness classes and clinics. The spa provides a wide range of therapies and a full compliment of salon services.
With a limit of 400 home sites spread across 1800 acres, there is a wide variety of homes and home sties from which to choose. They range from quarter acre village lots to 10 plus acre estate lots. Prices start in the 300's for a carriage house or a cottage to several million dollars.
CLASSIC POOLER
Located just west of the city of Savannah, is Pooler, one of the fastest growing communities in the state of Georgia.  Pooler is the center for commercial development in west Chatham County. Large companies such as Gulfstream and JCB manufacturing, as well as the Savannah/Hilton Head airport are located in the Pooler area.
  Residents enjoy the feeling of small town charm while having access to all of the conveniences of shopping and dining and medical facilities including a brand new hospital
There are a host of housing opportunities available in Pooler, from townhomes to golf course community lifestyle in Savannah Quarters.
GODLEY STATION
The Villages at Godley Station is a neighborhood that offers affordable homes and amenities. It is a master planned community in Pooler GA.
It is only a minute to area restaurants, shopping centers, and businesses.
The lifestyle here is advantageous for all ages. There are several smaller planned subdivisions in the villages at Godley Station – Copper Village, Towne Lake and the Arbors.
Copper Village is a well-established subdivision with homes from 1400 square feet to 2400 square feet starting at about $220,000. It includes 25 acres of amenities including a 5000 square feet clubhouse, playground, tennis courts, a fitness center, a junior Olympic pool and kiddie pool.
Towne Lake is also part of The Villages at Godley Station in Pooler GA. The homes are custom built and include a variety of styles. The amenities of Godley Station are also available to the Towne Lake residents.  
The Arbors is a master-planned community in The Villages at Godley Station in Pooler, GA.  It offers value, quality and affordability among tree lined street and beautiful amenities including the clubhouse, fitness center, tennis courts, playground and numerous walking trails and lighted roadways. The Arbors homes offer a variety of styles and sizes from 1500 square feet to 2300 square feet.
THE HIGHLANDS
The Highlands is an exciting new neighborhood in the Pooler area.
Convenient to great restaurants, shopping and schools, it provides a variety of types, sizes and price ranges for all buyers. It features an amenity park with clubhouse, swimming and tennis.
Neighborhoods in The Highlands in Pooler, GA, include: Cumberland Point, Highland Falls, Highlands Square, Hunt Club, Hunter's Ridge, Legends, Spring Lakes, The Farm at Morgan Lakes, and Willow Point.
FOREST LAKES
Forest Lakes is conveniently located in the center of Pooler, GA and offers a variety of home styles and prices. The homes start in the $300's and range upwards of  $500,000. Beautiful lake views are available from some of the stunning custom-built homes. The Retreat at Forest Lakes offers townhomes and duplexes with a maintenance free lifestyle. Amenities including a clubhouse, pool, fitness center and tennis are available for all residents.
SAVANNAH QUARTERS
Savannah Quarters is a beautiful master planned amenity rich community in Pooler GA featuring an active club lifestyle with a graceful charm and setting. Stunning homes offer a variety of types: estate homes, cottage homes, townhomes and maintenance free villas, all within a wide range of prices and sizes. Only minutes from downtown, you can enjoy both types of lifestyles. The community offers varied amenities from interconnected pools, fitness center, lighted tennis courts, and a Greg Norman signature golf course. Enjoy the beautiful clubhouse featuring superb food, activities and clubs, theme nights and holiday parties.   
Westbrook at Savannah Quarters in Pooler GA features custom built homes by many of the Savannah area's finest builders. Homes range in size from 2600 square feet to over 10,000 square feet and are priced from the 400's to over a $ million. A number of different architectural styles are featured along with a variety of building material including brick, stone, Hardi-board siding and stucco. All of these homes enjoy the amenities of the community included in the club social membership.
Westbrook Villas at Savannah Quarters is a community of townhomes, which offer a low maintenance lifestyle while living on the golf course, a scenic lagoon or private wetlands. Live in one of these 1900 to 3000 square foot homes, and enjoy the vacation lifestyle of Savannah Quarters without the day-to-day maintenance and upkeep of a single family home. Prices range from the 300's to the 400's. 
The Fairways at Savannah Quarters is also a low maintenance community in Pooler GA, with it's own clubhouse, pool and fitness center. The attached and detached homes feature open and current floor plans with private courtyards and golf and lagoon views. Located within the master-planned community of Savannah Quarters, residents enjoy all of the Savannah Quarters amenities. Home prices are in the 200's to 400's.
Westbrook Lakes is a Mungo Homes neighborhood in Savannah Quarters. The homes are all situated on golf course or lagoon view lots and feature mature trees and a friendly family neighborhood atmosphere. Residents enjoy all of the amenities of the Savannah Quarters community.
Westbrook Cove is a quiet neighborhood in Savannah Quarters with charming low country inspired homes that balance simple living with high style. Created by Village Park Homes, the collection features beautiful finishes, luxury details and the latest trends. Get the feel of a larger custom home with the space of a smaller cottage
Westbrook Grove offers low country charm with all the benefits of a new home. Homes by Village Park Homes feature classic southern architecture and great features such as open floor plans, energy savings and the latest trends all in a quiet neighborhood with access to all of the Savannah Quarters amenities including golf, fitness center, clubhouse, tennis and pool.
The Reserve in Westbrook at Savannah Quarters in Pooler, GA is a neighborhood of stunning beauty with stately trees and tranquil ponds. All homes are built by custom builder guild and feature many upgrades and classic southern style. Just minutes away from the The Club at Savannah Quarters, and all of the shopping and dining of Pooler, the Reserve offers an opportunity to build a truly unique home.
Davenport at Savannah Quarters offers several floor plans by Mungo Homes and Dream Finders Homes.  The floor plans feature open layouts with 1 and 2 story plans.  Many of the homes have outdoor living areas accessed by stackable patio doors. The neighborhood has centrally located playground. Prices are in the 300's and the HOA fees are remarkably low.
Whitaker Park at Savannah Quarters is a neighborhood with livable and affordable homes. There are several floor plans ranging in size from 1600 square feet to 2400 square feet. Exterior maintenance is included for an additional monthly fee. These homes are built by Freedom homes, part of the D. R. Horton Company.
Hamilton Grove at Savannah Quarters is a community with hoes in the $200's to $300's. Most of the homes are 2 story and feature 3 to 5 bedrooms. The neighborhood is located near the Savannah Quarters Golf Club and is conveniently near all of the shopping, dining, and businesses of Pooler, Ga.
The Gates at Savannah Quarters is a gated community with homes priced from the $200's to the $400's and is part of the Savannah Quarters master planned community. It is in close proximity to all that Pooler, GA has to offer including recreation, shopping and dining.
Townhomes of Village Green are quaint 2 and 3 bedroom townhomes located right in the heart of Savannah Quarters village. Walk to shopping and dining including Publix grocery. Prices are in the upper $100's to the $200's.
Danbury Park at Savannah Quarters is a townhome neighborhood within the gates of the master planned community of Savannah Quarters. Many of the homes in Danbury Park feature golf course views.
RICE HOPE
Located in Port Wentworth, and close to Savannah airport, on GA 21, just 1 mile west of I-95. 
The community offers an array of lifestyles and amenities, including Indigo Lake, Central Park, and a resort style pool.
Just 1 mile from the entrance is a new Publix shopping center and schools.
SOUTHBRIDGE
Nestled among 1400 acres of woodlands, lagoons and walking trails, Southbridge is a thriving and popular golf community.  It is only a 12 minute drive to the downtown historic district and the Savannah-Hilton Head International Airport, shopping, dining, and medical facilities. The beaches of Tybee and Hilton Head are 30-40 minutes away
The master planned community is diverse, including new construction and existing homes of all types, single family, estate residences, condos villas and townhomes. 
BERWICK PLANTATION
Berwick Planation is a master planned community with many different neighborhoods.
It is flanked by US 17 to the south and Southbridge to the north.
Anchored by the Berwick Marketplace, it offers easy access to Kroger and other shops and restaurants.
Neighborhoods include Glenwood Grove, Stone Lake, Legacy Square, Stonebridge, the Enclave, the Village at Autumn Lake, Chapel Park and Oakhurst, each offering a variety of price ranges and home styles.
EFFINGHAM COUNTY
Effingham County is included in the Savannah metropolitan area and is one of the fastest growing counties in the nation. It is located west of Chatham County and Savannah.
Effingham County is comprised of several towns, the main ones being, Guyton, Rincon, and Springfield. These communities feature homes on large tracts of land, and new home communities with amenities such as pools and tennis courts.
A variety of home types and prices are available.
Rincon is about 30 miles from Savannah and hone to about 9000 residents. There are 4 main subdivisions in Rincon, Autumn Woods, Georgia Plantation, Lost Plantation and Silverwood.
Autumn Woods is located off of Goshen Road. This small community has several dozen homes with brick construction, lush landscaping, and prices from the $250's to over $500,000. Built in 2000-2006, it is part of the South Effingham School district. There is an annual HOA dues.
Georgia Plantation is across Goshen Road from Autumn Woods and less than 2 dozen homes from the $250's. It is part of the same school district as Autumn Woods. It is close to downtown Rincon, with large oak trees and gas-lamped lined streets.
Lost Plantation is one of the largest sub-divisions in Rincon featuring an 18-hole golf course, tennis courts, walking trails, ponds, parks and a swimming pool. Lost Plantation is accessible off of Highway 21 and Fort Howard Road, and winds through the golf course with numerous neighborhoods and residential areas amongst the greens and tees. The homes range in price from the $200's to the $500's. In 2013 the community received the "community of the year" award from the sales and marketing council of greater Savannah. Residents enjoy a lush lifestyle with great public and private schools.
Silverwood Plantation is located south of Lost Plantation off of Highway 21 and Chimney Road.  These homes are priced from the $200's to over $1 million.  There are a variety of lot sizes up to over an acre. Most homes are of brick construction and are 1 or 2 story plans with 3 to 5 bedrooms.
Guyton is a city in Effingham County GA and is a rapidly growing area. It offers a school district with great schools and a safe and nurturing community. There is an abundance of restaurants and many shopping areas. The neighborhoods are surrounded by commercial centers and natural scenery.  The city has become an ideal place to live and offers ample opportunities for job seekers.
Sub-divisions in Guyton are numerous and include: Abbey Lane, Archer Place, Barrister Crossing, Belmont Glen, Brookfield, Buckingham Plantation,  Castlewood, Cedar Ridge, Covered Bridge, Crossgate, Eagles Landing, Emerald Plantation,  Greenbriar, Heritage Place, Hidden Creek, Honey Ridge, Hunters Walk, Kensington Forest, Lakeview, Laurel Mill, Lonesome Oak, Midland Estates, Mossy Hollow, Park West, Patriots Point, Pennington Estates, Royal Oaks, South Bend, South Effingham Plantation,  ST Matthews Place, Summer Place, Sunrise Pointe, The Woodlands, Timberlake, Warner Fields, White Hall, Whitesville and Windfield.
Springfield, GA is known for it's peaceful and relaxing way of life. It is the county seat of Effingham County.  There are a variety of home styles and prices from the $100's to the $500's. Sweet southern hospitality makes you feel right at home.
Subdivisions in Springfield, GA include: Ardmore Acres, Beaubrook, Breckenridge, Bridgewood, Copperfield, Cornerstone, Eagle Pointe, Forest Hills, Hawk Hammock, Shadowbrook, Spring Branch,  and Springfield Woods.